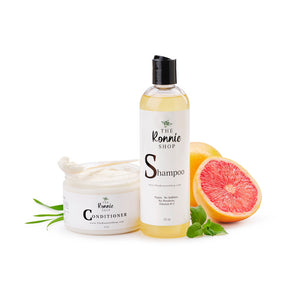 Ronnie's Duo (Eliminate Breakage, and Flyaways, Silky Blowouts and Presses)
This package includes:
Ronnie's Shampoo:

A rich and gentle cleanser with the soothing peppermint to pamper your scalp, and amazing slip for flawless detangling and styling.
Ronnie's Conditioner: : A Thick, luscious conditioner that strengthens  and smooths the hair shaft with horsetail extracts and reduces shedding with botanicals such as Nettle and raw Shea butter. Less frizz more length.

--------------------------------------------------------------------------------------
The shampoo is great for easy detangling, and to soothe itchy dry scalp
Creamy, rich, detangling, and moisturizing shampoo with scalp healing peppermint. It works for all hair types, natural or chemically treated. Great slip makes it a great detangler. Peppermint essential oil soothes the scalp, stimulate hair grwoth, eliminates dandruff,  relieves itchiness . This shampoo was created to help soothe and treat the scalp without stripping your hair of its moisture. Gentle and safe for the whole family, kid friendly as it really detangles!
NO SULFATES, NO PARABENS, VEGAN, CRUELTY FREE
This conditioner/hair mask is great to reduce breakage, and retain length. It also helps to create the perfect  silkpress and blowouts, reduces frizz, make your wash and go last or to make your curls pop. 
A thick, luscious conditioner that will:
Smooth, Repair and Strengthen your Hair
Reduces Frizz and Breakage
Mends Split Ends and Restores Shine
With amazing ingredients such as horsetail and nettle extracts to strengthen the hair shaft and prevent breakage, helping you retain all the length attained by using the hair oil!
Ingredients contain :Grapeseed Oil, Shea Butter, Coconut Oil, Keratin, Cocoa Seed Butter, Lemongrass, Horsetail and Nettle Extracts
NO SULFATES, NO PARABENS, NO SILICONES, VEGAN, CRUELTY FREE
 Stop severe breakage today, try this product to prevent it
---
We Also Recommend
---